HOME
Authorship And Interaction
Remix Culture
Remix Culture
Cutup Collective
Cutup consists of a band of anonymous artist who live and work in London. Using pre-existing elements of the urban environment to create urban installations.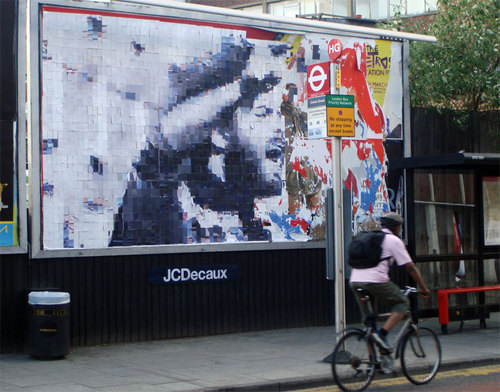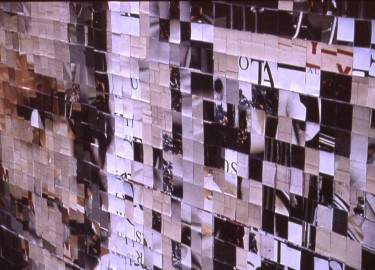 In these examples advertising billboards have been covered with images created out of a collage of flyers and other ephemera.
BUT, the question is, where does the authorship lie? by using materials which already existed and were designed and produced for a different purpose and manipulating them to create something totally different. The Copy Left law would argue that permission wasn't given to adapt the original work (the flyers and ephemera) when they are cut to being unrecognisable and then put together to create a new piece of visual art. Where is the recognition for the original art? but should there be any considering its been taken out of its intended context and is now unrecognisable as the original.
Man with a Movie Camera
The global remake is a participatory video shot by people around the world who are invited to record images interpreting the original script of Vertov's 'Man with a movie camera'. Software has been specifically developed for this projects archives, sequences and streams submitted for the film. infinite versions of the film are possible.
Collaborative Film Making
Deptford TV
Is an audio visual documentation of the urban change of Deptford (South East London).
The unedited as well as the edited media content is being made available on Deptford.TV database and distributed over the boundless Coop wireless network. The media is licensed through open content licenses such as Creative commons and the GNU general public license.
Creative commons helps with the legal and technical infrastructure which therefore allows the sharing of files and the creative use.
The Breif -
REMIX ME
(The Post-Structuralist Author)
Music Remix
Artists these days welcome their music being remixed, remixes can open up their music up to more audiences therefore benefiting the original artist.

Here is a video take of a rainbow, someone has then taken a recording of a persons reaction to this video and remixed it into a song.
This video was created by Pogo.
'Hi! I'm Nick Bertke, better known as Pogo on the web and in the music scene. I record sounds from my favourite games and movies, and piece them together like a jigsaw puzzle to create completely new music.'
His work is vast in genre and has attracted a lot of followers.